2023 Fall/Winter Hours - Music every Saturday, No Food Trucks
Open Saturdays 4 pm to 8 pm
Last day of the season - December 16, 2023
Closed on November 25 for the Holiday

Please - no pets, no smoking/vaping, no alcohol
other than our wine.
Questions? Check out our FAQS.

In memory of Bodi.

Sign up for our newsletter!
Wine Pickup: Available wines listed on
"Shop Online."
Call us at 740-535-6257 with
your order or place order and pay online.
Or check out where to purchase locally.

Need a gift? How about an eGift Card?



Located in Central Ohio minutes from Columbus, Newark, Heath, New Albany, Johnstown, Utica, Alexandria, Pataskala, Gahanna, Westerville, Mt. Vernon, Sunbury and many more!
Locally crafted wine
Beautiful rural setting
A relaxing place for wine with friends
Welcome!
At Three Oaks Vineyard, we want you to feel welcome as soon as you arrive at the winery. Enjoy a relaxing glass of wine with friends and family on one of our patios. We offer wines by the 750 ml bottle, glass or flight. We have wine slushies May through October and mulled wine in November and December!

Looking for great music and food, then check our schedule for who's playing and what food trucks will be here. No food trucks in November or December.

When we don't have food trucks or caterers, you are welcome to bring a picnic lunch, buy from our food menu or stop at the Fredonia Mall (740-587-4064) on your way for sandwiches, pizza and more. But please don't bring any alcohol, Ohio Liquor Control only allows our wine to be consumed on the property.

Wine is not only a experience around taste, it's an experience of aroma. Our patios, pavilion and surrounding areas are non-smoking and non-vaping.

All Pet Lovers: While we love pets ; pets are not permitted at the winery.

Wednesday is Open Mic Night - Closed Now - Starting Again in 2024

Come enjoy the great music put on by many local musicians! Sign up starts at 5 pm and the music begins at 6 pm. Come enjoy the great music. If you play music, please bring your instrument and sign up to play three of your favorites!



Friday is for wine and friends - Closed on Friday - Open Again in 2024
Kick your weekend off with wine and friends starting at 4 pm on Friday. Every other Friday, we'll have music and a food truck. Check our schedule for details.



Saturday Evening Wine and Music

We have a wonderful line up of great music and food scheduled for this year. Check our schedule for details. We don't offer reservations, so please arrive before 5 pm to get seating. You are welcome to bring your own chairs for the lawn area.

The Vineyard
When you arrive, there's lots to explore, starting with wine. We make our wines from grapes that grow in Ohio and New York. They have names which are different from the ones you'll find at the grocery store. To help you select the wine that best suits you, we offer wine tastings on Friday and mini-bottles of wine on Friday and Saturday.

Many of the grapes are grown right here at Three Oaks Vineyard. You are welcome to go on a vineyard tour, just ask Pete! He's glad to show you the grapes and answer questions along the way.



Explore!
Enjoy taking a walk? We have a short hiking path on the property directly beyond the vineyards. It's uphill to get to the path, so you may huff and puff a little. Wear some comfortable shoes, take a glass of wine and enjoy the outdoors.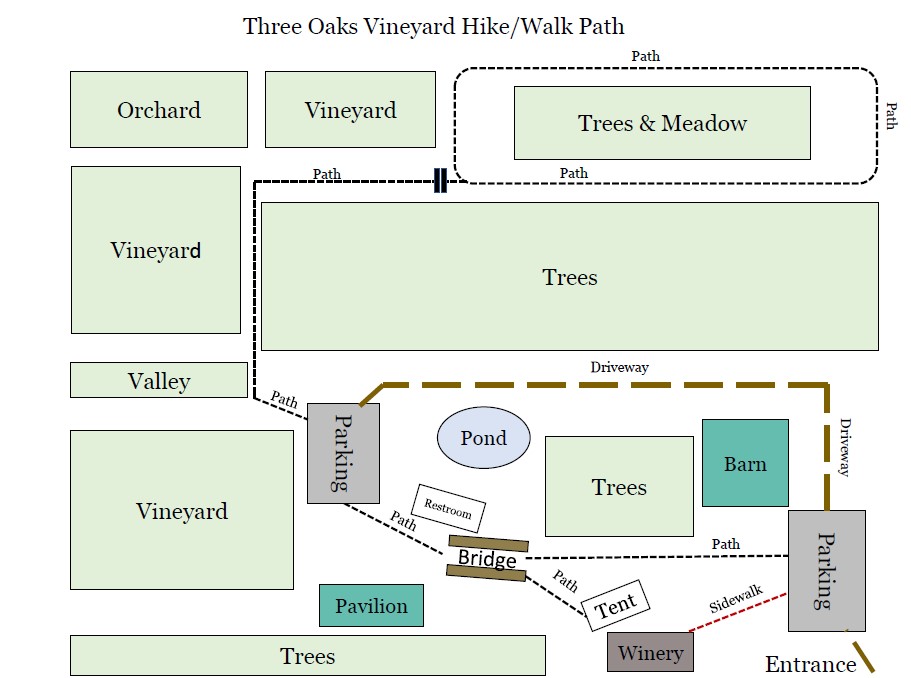 Take time to relax and enjoy a glass of wine.
We hope to see you here sometime soon.

Pete & Diana Hooverman
Owners, Three Oaks Vineyard LLC