Bodi
Three Oaks Winery Dog from 2017 to 2023
Rest in Peace

We were blessed to find Bodi at the Licking County Humane Society. Everyone there knew we were looking for a winery dog and they all pointed us to Bodi. Bodi loved people and treats and grew to become an amazing Winery Ambassador.

Bodi's early life was not easy. He was rescued from a trailer where over one hundred animals were living along with three people. We believe the terrible situation in the trailer is what caused his health problems. He was prone to infections, had severe arthritis in his hips and was later diagnosed with Addison's Disease ("caused by a deficiency of essential hormones that are made by the adrenal glands").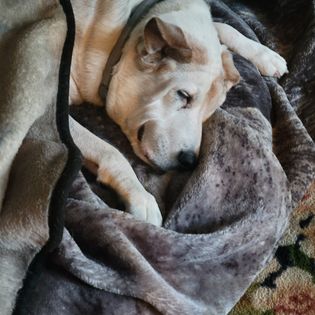 Bodi didn't let his health get him down. He was such a sweet little guy. He loved visiting with everyone at the winery and especially loved to be pet or get a special treat.

Bodi loved to walk down to the pavilion because he knew his friends would be there. After he visited, he liked to have his bed there or a blanket to cuddle in. He would stay until the music started and then it was time to go home for his nap.

He wasn't the fastest dog. He took his time when walking and even taught us to slow down and enjoy the world.

I know he really had the best life with all the nice people who are here at the winery. We miss him so much.