About the winery
If you are looking for a relaxing place to enjoy wine while meeting up with old friends and maybe to make a few new friends, you've found it.
If you see a review or two commenting on our "backyard atmosphere", they are right. And according to a review by Dave H., that's exactly why he likes it here.
If you'd like to wander through the vineyard with Pete as your tour guide, just ask.
Come join us for a glass of wine, meet some friends and maybe even enjoy some music.
About us
Three Oaks Vineyard, LLC, is owned by the two of us, Pete and Diana Hooverman. Before we moved to central Ohio, Pete ran his own construction business in Akron while Diana's career was in IT. We became interested in starting a vineyard back in 2006.

We began with 9 vines the first year, and now we have around 800 vines and 10 varieties. In 2009, we decided to add an apple orchard. In January of 2012, we were approved as an Ohio Winery. Making wine is truly an art. There's so much to learn and we continue to get more experience and skill at the craft. In 2014, we were fortunate to travel with friends and family to the Bordeaux region of France. It was a very interesting and educational to tour the many vineyards and chateaux and compare their wine making to process to ours. Not to mention enjoying the wines!

Please come join us for a glass of wine with friends.

Pete and Diana Hooverman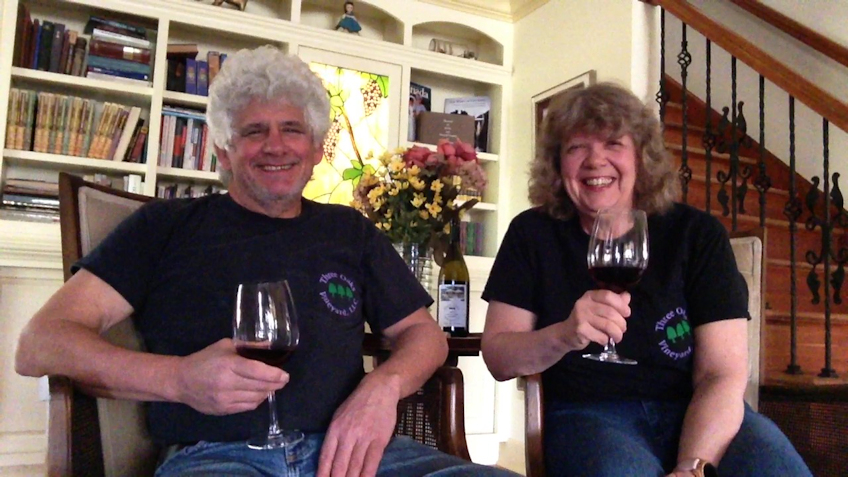 Our outdoor patio
There's lots of room on our outdoor patio for you and your friends to enjoy wine, friends, music and laughter.


Our covered patio
Need cover? Adjacent to our outdoor patio is our tent covered patio nestled against the woods. If there's rain coming, we can add sides to keep us dry.


Our pavilion
When the weather is cooler, we serve wine out by the vines in the pavilion. A beautiful space custom built by Pete with lots of seating inside and out.